The Chebacco boats are the brainchild of Phil Bolger, the prolific naval architect of Gloucester, Massachusetts. The are derived from an earlier design of his, called 'Harbinger' – a 15 foot open catboat with a cold-molded hull.
The first version of the Chebacco also had a cold molded hull. It was designed at the request of Brad Story, professional boat builder and artist, of Essex Massachusetts, who wanted a somewhat larger replacement for his Harbinger with a small cabin for overnight accommodation and cat yawl rig. This cold-molded version had a transom-hung rudder.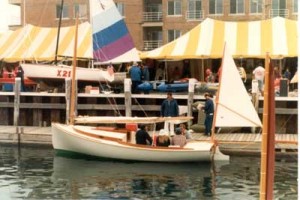 Brad found it was an expensive boat to build, and asked Phil if he could modify the design to make it more affordable for his customers and a new, sheet-ply version was designed. This had hard chines and an inboard rudder so that the outboard motor could be hung centrally on the transom. Any fuel which spilled from the outboard fell into a self-draining well, clear of the cockpit.
This version of the Chebacco (Bolger design #540) is 19'8″ long by 7'5″beam, with a draft of 1'0″ or 3'11" depending on whether or not the centreboard is down.  This design has proven to be the most popular, no doubt partly due to Dynamite Payson promoting the design through his "Instant Boats" books and articles.
Brad commissioned yet another version, with glued lapstrake sides (Bolger design #575, 19'8″ long by 7'9″beam), . The other details of the design are essentially the same as the hard-chine version.
Another variant is the Chebacco "Glasshouse" (sometimes referred to as the "Motorsailer"), with higher topsides, ballasted keel and a big cabin,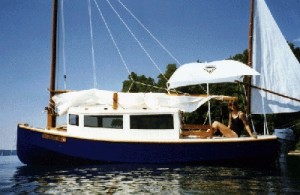 Addressing demand for a cruising version of the Chebacco, Phil Bolger and Friends designed a 'Light Cruiser' conversion for the 20-foot Chebacco hull.  This design was intended to allow the owner of a lapstrake or sheet ply Chebacco to convert their hull to a sail cruiser, or for new builders to incorporate the modifications from scratch.  The light cruiser conversion incorporates a pilot house, head, galley, easily lowered mast in a tabernacle, and lots more storage for extended cruising.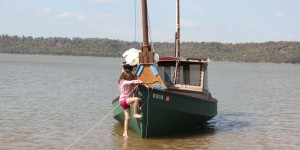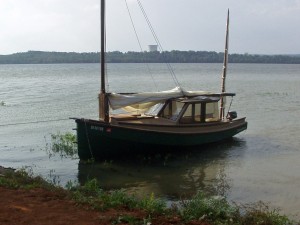 In 2002, after almost 20 years of experience and reports from owners, a total revamp of the design known as the Raised Deck Chebacco (Bolger design #540RD – 19'8″ long by 7'10.5″) was released by Phil Bolger and Friends.  This design offers roomier and more comfortable cruising with a greater range of stability and higher displacement. Apart from the higher sides, bigger cabin and raised deck, the design offers a totally new building method that should be quicker and easier (at least to get the hull built – the RD has a lot more cruising related components than the #540 and #575).
[Send me a photo if you have built one]
The final member of the Chebacco family (Bolger design #602) has a 25'4″ lapstrake hull and raised deck with a large 12′ cockpit.
These last two variants of the Chebacco are not common, despite many features and advantages incorporated into their designs.
There are a small number of one-off variants in existence, including a 26′ sheet ply version with a birdwatcher style walk through cabin and a lapstrake version of the 20′ Raised Deck.
Plans for the Chebacco boats can be bought from:
Phil Bolger & Friends,
Boat Designers,
P.O. Box 1209,
Gloucester,
MA 01930,
USA
Experienced builders can order plans for the sheet ply version of Chebacco from
Builders should note, however, that Phil Bolger and Friends will only enter into correspondence with builders who buy plans direct from them.
Bill Samson/Andrew Yen