Chebacco News
Number 7, January 1996
We have something of a breakthrough in this newsletter, in that it is mostly concerned with sailing a Chebacco. Sister Krista Mote has been sailing her Chebacco in company with her friend Sister Donna Marie in the coastal waters of New Jersey, for the past four years. Here is her story . . .
'TOULOUMA TOO' (1)
I recently had the pleasure of meeting Bill Samson while he was staying with Gil and Joan Fitzhugh. The following notes are an attempt to comply with his request to write about TOULOUMA TOO.
Before I set forth the joys of sailing a Chebacco, I'd like to briefly explain how we became acquainted. My brother's children learned to sail on a beautiful Beetle Cat – TOULOUMA. Aunt Mary (that's me) was their frequent companion, but they were eventually lured away by more exciting companions. Just around that time, Sister Donna Marie from California, came to live at our convent. After taking her sailing once, T knew I had found a kindred spirit. We had many joyful experiences camping in the Beetle Cat. I eventually complained that we needed more space and comforts to accommodate our increasing age and desire to cruise longer distances. Harry, my brother, said, "Look around." What a great idea.
Growing up looking at wooden boats and later, camping in the Beetle Cat, develops an acquired preference for the way boats look; an attitude which may be considered snobbish by some. Needless to say looking for a boat to replace the Beetle Cat was a frustrating experience until Harry showed me a picture and article about the Chebacco. It was love at first sight, and the rest is history.
Now I'll tell you about my Chebacco and what you might expect with yours. I guarantee you that you and your boat will develop a lasting friendship. The personification established by referring to boats as "she" will become more real as you discover and appreciate this boat's unique personality. You may even find yourself "talking" to her. Example: I occasionally entertain a fanciful thought (only when a weeks cruise is inconveniently interrupted by an all-day rain or two) of a bigger boat with a cabin, standing room and accompanying amenities. The dream is quickly dismissed when morning dawns buoyantly sunny again, the huge white sail is raised and we're off on another glorious adventure. I apologize to my dear boat and assure her that she is too beautiful, too agreeable, and too much fun to ever part with'.
"How do I love thee? Let me count the ways"-
SHE'S BEAUTIFUL: The fun of sailing a Chebacco is enhanced by echoes of ooh's and aah's as she catches the eyes and interest of on-lookers. We've been docked in line with a variety of impressive yachts. Boaters will pass by these lavish modern vessels and stop in their tracks to admire and ponder our Chebacco. We often remain in the background and enjoy watching people walking around her, examining every inch. Now and then other sailors will actually pursue us to offer their praises and inquire about her origin. She's a conversation piece, and it adds to the camaraderie on the water.
SHE'S FAST: I do not consider myself a competitive sailor. My sailing skill does not measure up to the standards required for racing. However, I will confess that I frequently find myself secretly competing with other boats of the same size or slightly larger. I can usually catch up with, stealthily overtake or keep ahead… at which times TOULOUMA TOO is the "Cat that swallowed the canary," and I, the proverbial grinning Cheshire. Going to windward this is not always so. Then I think about adding a jib. She'll get you to your destination (when you have one) sooner than you may wish. After all, the fun of sailing is getting there.
SHE'S EASY TO SAIL: The joy of sailing a Chebacco is found in her easy handling. A child could sail this boat. She's so easy, she'll make a beginner look like an "old salt" in other words, a professional. She's responsive even in a light wind and can be sailed efficiently with a double reef in winds ranging from 20-25 knots. If the center board gets jammed "up" you can use the mizzen to assist in coming about if need to. In Dan Segal's article, "Chebacco 20: Evolution of a Civilized Daysailer" (see Wooden Boat: July 1991) – claimed – "With some tweaking, she will steer herself." It is true. I have had fun experimenting with this and have perched myself upon the fore deck and watched her sail. Suspecting this could be dangerous, I'm intensely alert and only practice this manoeuvre far away from other boats.
SHE' S COMFORTABLE: Even though the cuddy is small, it's very accommodating for a couple of sleeping bags. You'll be as content as two peas in a pod. We previously used air mattresses and are now replacing them with custom fitted 4″ foam sleeping cushions. The latter will take less space in the cuddy and eliminate our exertion in blowing up each night as air is-lost. Some time after the sun sets, we rig our cockpit tent and presto, instant additional shelter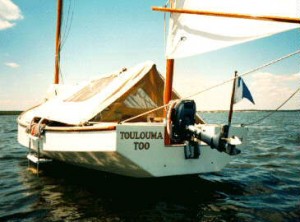 Toulouma Too – showing boom-tent.
We sit on the floor, allowing plenty of head room as we rest our backs against a cushion .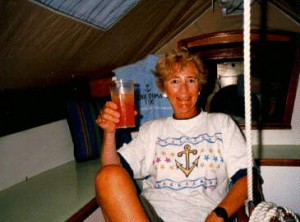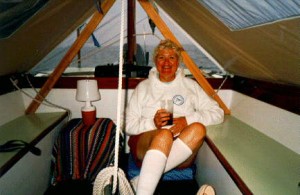 We play cards, listen to a book tape, have a snack, and eventually say our prayers of gratitude. Sometimes we just talk as we're rather silent during the day, not wanting to disturb the serenity of each tranquil moment. When we awake in the morning, everything that is stowed in the cockpit from the cuddy is nice and dry being protected from the cool night's dew by our tent. When you have discovered that perfect anchorage" for the night, you'll bless the mizzen for keeping you up into the wind, especially while rendezvousing with friends while moving in a curving motion is undesirable.
SHE HAS A SHALLOW DRAFT: Due to the shallow draft, we have the advantage of being able to explore alluring shorelines, shoal creeks, and coves. We can even beach her for a picnic if we choose. This wonderful feature provides us with the opportunity to witness nature "up close and personal." For instance, one night during our last cruise, we chose an anchorage in two feet of water, about ten feet from the lovely picturesque shoreline of Island Beach State Park. As we lazily watched the sun set, we were suddenly joined by a beautiful red fox. He boldly trotted along the water's edge pausing intermittently and indifferently looked us over. I guess we were more impressed with him than he was with us. This is the sort of delightful experience sailors with deep keels are denied. The next morning, we stepped off our boat and ventured along the same charming shore, observing nature's opulence. Stepping off in four or five feet of water would not be nearly as convenient. In addition to the convenience of a shallow draft, is the fact of a relatively short mast. Due to the gaff rig, the mast is short compared to other boats of similar length (about 20′ minus the gaff spar). You will be very happy to discover that you can motor or sail under many bridges that others cannot.
SHE HAS STORAGE: There's sufficient storage to certainly satisfy most sailors needs. On the other hand, storage may become just adequate depending on individual needs and the duration of the cruise. You may be forced to set priorities. Sister Donna Marie and I are gradually improving. However, we find that when we sacrifice one object, it quickly gets replaced with something else. For instance, we eliminated one or our two ice coolers and replaced it by an Origo alcohol stove which proved to be a great decision! We have learned to simplify our menu and get along with less clothing. Fortunately for we who sail in the back bays of New Jersey, there are many marinas equipped with showers. Yacht clubs are especially hospitable in sharing facilities.
Here's where we stow it:
1. 1 can't imagine stowing an anchor anywhere on this boat except on a bow sprit. I am forever grateful to Harry for identifying the need to do so, before she was built.
2. What do you do with wet wash cloths? Harry made me a beautiful little wood towel rack, fastened forward in the cuddy.
3. Wet bathing suits are stowed in the motorwell, so are gas and water.
4. PFD's fowl weather gear, plus a variety of nautical non-necessities are readily available from the spacious lazerettes. [- there are hatches opening onto the chambers either side of the motor well (Ed.)]
5. Toiletries in an adapted spice shelf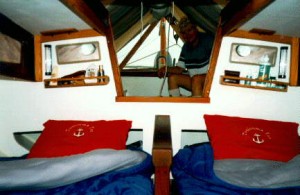 6. Sleeping bags are stowed in the bow.
7. Pillows and sleeping gear in the hammocks. [- slung under the side decks in the cuddy. These are little hammocks – not for sleeping in! – BS]
8. Food and drink under the bridge, inside cuddy. [Toulouma Too has a bridge deck, providing storage at the aft end of the cuddy. Builders who have not included a bridge deck but have followed Phil's plans to the letter will find adequate storage under the side benches, accessible from the cuddy – BS]
9. Docking lines, plus all kinds of little gadgets, weather radio, sun tan lotion, bug spray etc. are tucked away under the motor well in the cockpit. Oh yes, the first aid kit is under there too.
In conclusion, as a credit to the above praise, I need to point out the following: As a result of our (Harry and I) trial sail with Mickey (owner of a Chebacco in Massachusetts – 1990), Harry identified several alterations to be made before Brad Story built my particular boat. Brad was sent a list of requests pertaining to planking, framing, aft end of cockpit, centerboard, mast partner, stem, anchor sprit, rig, mainsail and mizzen. These mutations have made this "Cat" exceptional. All this added to the fact that it was built to purrfection by Brad Story. I might boast of having the most desirable "Cat" of the litter.
Observation: The "yachty" Chebacco pictured in news letter *3 April 1995 is TOULOUMA TOO. Actually, I think she is referred to as The Story 20.
For anyone who is curious about the origin of the name, TOULOUMA. My dear Uncle Gus suggested the name for the Beetle Cat after reading Alone in the Caribbean, by Frederick Fenger. The word TOULOUMA is from the Carib Indian language which means "pretty girl". The Carib Indians are the people who live on the windward side of the Leeward Islands. Harry thought it was very appropriate for such a pretty boat.
PS Harry has a great respect for Phil Bolger's work and owns a Shearwater. We had the pleasure of talking with Phil over tea after our sail in 1990. It was a charming and memorable experience.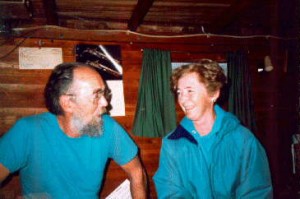 Phil Bolger with Sister Krista on board 'Resolution'.
'TOULOUMA TOO' (2)
Joan and Gil Fitzhugh went sailing with Sister Krista and Sister Donna Marie in mid-October. Here's what they have to say:
Joan and I had a delightful sail with Sister Krista and Sister Donna Marie last Sunday. I'll pass on my impressions, but remember that they're from the standpoint of a very inexperienced sailor. . .
Sunday was overcast, cold and blustery. Wind was 10-12 kts near shore, 15-20 out in the bay, with higher gusts. Waves weren't very high, maybe a foot, but the water was heavily wind-streaked and about a third of the waves had small whitecaps. As you know, Sister Krista's boat was modified by adding 300+ lbs of inside ballast, and by raising the mast a few inches. As you probably didn't know, her centerboard was jammed in the up position. She doesn't know the source of the problem, but expects to have it corrected at the end of the month when the boat is hauled out of the water.
We motored out into the bay and raised the mizzen. The boat pointed itself into the wind and behaved docilely, while Sister Krista raised the mainsail, into which she had already tied a single reef. We whizzed off on a beam reach, with Sister Krista concerned that a second reef might be in order. After a while I took the tiller. The boat held course fine in a steady wind, with just a bit of weather helm, but I found the gusts a bit off-putting. (I hadn't sailed anything in a year and a half, and had never sailed a yawl, so recognise that all my comments are filtered through my inexperience.) A puff would make her round up sharply into the wind. Considerable pull on the tiller would point her back on course, but with a lot more heel. Sister Krista decided a second reef was a wonderful idea! She sheeted in the mizzen and Sister Donna dropped the anchor (Barnegat Bay is shallow enough to anchor in most places). Tying in the reef was a non-event, since the boat is a pretty steady platform. With the anchor raised the boat was transformed. Very pleasant and non-scary, even in gusts.
I wanted to see how it would behave close-hauled. Answer: fine, though with the board stuck up we seemed from the angle of the wake to be making about 15 degrees of leeway. Even so, true upwind progress was possible, though slow. With the board unjammed I'm sure it would have been great. Coming about was easy if the mizzen was used for some steering help.
An easy intentional gybe soon had us surfing downwind at a rollicking clip. Then Joan sailed it and she, too, enjoyed it.
Since home was directly upwind, and since Sister Krista had plans for the afternoon, it was time to head back. After three or four long beats, it was apparent that a) home was getting noticeably larger, and b) it was nonetheless not doing so fast enough. Sister Krista got the sails down , again with no apparent heroics, and we motored in. The 4-horse was more than adequate to punch through the wind. The access to the dock was directly crosswind, and the drift was considerable, but the engine and Sister K's tillerwork were able to get us in. By the way, Phil Bolger says that you can steer with the tiller and the motor will pivot appropriately, but I noticed that Sister K climbed to the stern and steered directly with the motor whenever we were under power.
All in all, Joan and I came away from this sail much relieved – a lot of our money and my time has been going into this boat with nothing but a belief that everything would be copacetic [I like that word; 'US colloq.' it says in my dictionary – BS]. Until recently we'd never even seen a Chebacco, let alone had a sail in one. We're now persuaded that we've chosen a suitable design. We'll gain experience slowly – I doubt our first few sails will be in as much wind as we had with Sister K – and, since our boat will live on a trailer, we don't have to wait 'til end-of-season haulout to unjam the centerboard. 'NENCIA' News, too from Alessandro Barozzi, of Italy. In Chebacco News #6 there was a photo of NENCIA, his Chebacco without a cabin and with self-draining cockpit. I asked Alessandro how this worked and he wrote to me. [Inaccuracies are my responsibility, due to the shakiness of my Italian.]
Casavecchia has incorporated a self draining cockpit simply by leaving out the footwell and making a single bridge from the third station to the stern, resulting in what he calls 'a party boat'; in fact I believe that half a dozen Japanese Sumo wrestlers could dance a minuet on it!
He also comments on the relative merits of lapstrake vs sheet ply he says –
I agree with you about the elegance of her lines, but I am convinced, having spent a summer with NENCIA, that in all probability the more practical version is the one you have made [sheet ply]. The clinker hull is too inclined to splinter at the least bump and I suspect that it is also considerably heavier.
I'm not sure I agree about the heaviness, since the sheet ply version is sheathed in glass and epoxy. He goes on to say that he is tempted to raise the freeboard of NENCIA and improve the accommodations and is thinking of how this might be achieved without sacrificing the aesthetic properties of his boat.
News from builders
Fraser Howell of Nova Scotia has e-mailed me to say that his hull is now painted with dark blue two-part gloss paint.
Bill Meier of Connecticut has started building his lapstrake Chebacco-20, upright. It will be interesting to hear how well this works out when compared with Gil Fitzhugh's inverted technique. Bill writes –
As the leaves begin to fall I'm finally beginning to see some progress on the boat. I spent the better part of the summer on assorted parts but didn't start putting anything together until September. As things stand now, the backbone and bottom assembly are set up, the molds are positioned and I have the plank lands marked. Since I'm building upright, marking off and fitting the first plank forced me to spend the last two weekends lying in sawdust and shavings on the concrete garage floor. This coming weekend I'll do a final dry fitting and then permanently fasten down my first plank.
When I joined the bottom pieces I tried the technique of scarphing plywood by hollowing out a six inch groove along the joint and filling it with fiberglass matting and epoxy. My poor disk sander complained, the dust was everywhere and it took me three batches of thickened epoxy before I got a fair surface. I decided that it was more pleasant (as well as cheaper and faster) to cut the scarphs with a sharp hand plane so that's my current strategy. Four down and twenty to go!
The only significant change to the construction drawings I've mad to this point is to build a solid keel. I was concerned about the durability and longevity of a hollow keel, so I agonized more than a few nights about alternative constructions. I wasn't thrilled about working (or paying for) large pieces of white oak so I finally settled on the technique of building the keel from lifts sawn from construction grade 2×6 Douglas fir, which also eliminated the need for separate cheek pieces. The lifts were cut with a skil saw, fastened with 3M 5200 adhesive and 20d bronze ring nails, planed to final shape and soaked in Cuprinol wood preservative. I nailed from the bottom up so that I could plane the curved top surface. A hickory shoe was added to the bottom of the keel for those unexpected rocks lurking just under the surface. Three-eighths inch bronze rod will be used to fasten the keel to the hull at strategic points. I'm not completely happy with my choice of Douglas fir, but the boat will be kept on a trailer most of the time and I'm hoping the Cuprinol will keep it healthy for more than a few years.
Keep up the good work. I've been thoroughly enjoying the newsletter.
Regards,
Bill Meier
Gill Fitzhugh tells me that since he flipped his hull he is battling against rainwater getting under the tarp. He also writes –
I've been cleaning up the inside, especially forward of station 5 where the inside is visible. There's a fairly simple way to clean up the joints between strakes, although old spilled epoxy is hard on cutting tools. It involves a rabbet plane . . .
He goes on to explain how the plane can clean up the epoxy runs at the plank lands. Gil also commends the plank bevelling technique shown in the November/December issue of WoodenBoat: –
Gee, I wish I'd known about that, or thought of it myself! Instead of temporary molds, I could have built in the permanent ones. With molds in place the rollover could have been done with three or four people. The result would have been more accurate and cheaper. And round battens with no twist? Brilliant! I'm impressed all over again by the potential for the human race when someone can create a quantum leap in simplicity and accuracy for what's essentially a backyard process that's been going on for centuries.
Gil also pointed out a transcription error (mea culpa) in his table of offsets –
The height of plank line EF at station 8 is 2.1.3, not 3.1.3. The other numbers are the ones I sent you.
I've now corrected my master copy, so if you'd like a fresh copy with the correction, please get in touch.
Roots . . .
Lofting takes Gil back to his days as an actuary –
I kind of enjoy lofting. It's a bit like graduating a mortality table from raw data, but the result is so much prettier.
Hmmm . . . This takes me back to the origins of my own interest in woodworking; my father was an undertaker. . .
Keep in touch
I've had particular fun putting together this issue of Chebacco News and would like to express my thanks to all our contributors. Please send me your stories, views, opinions, challenges, insults, . . .
Bill Samson,
88 Grove Road,
West Ferry,
Dundee DD1 1HG,
Scotland.
e-mail – mctwbs@river.tay.ac.uk