Chebacco News 34-June 2001
So long – and thanks for all the news!
Well folks, this is to be the last issue of Chebacco News under my editorship. It started in September 1994, printed on a dot-matrix printer with my old Atari ST computer, and has evolved into the current Webzine.
My heartfelt thanks are due to all of you who, over the years, have shared your Chebacco experiences via Chebacco News – but most especially to Gil and Joan Fitzhugh, not only for their insightful articles, but as the North American distributors of the printed version of this newsletter.
There are two reasons for me giving up the editorship. The first is that my interests have moved on, primarily to kayaking, and I'm not using Sylvester as she should be used. The second is that NBCI is going to start charging for the use of its webspace and I'm, frankly, not prepared to pay for a service that brings me no income.
SO – IF YOU WANT TO HAVE COPIES OF CHEBACCO NEWS TO REFER BACK TO, YOU'D BETTER START DOWNLOADING THEM BEFORE THEY DISAPPEAR ON JULY 15 2001.
If anyone is keen to take over the editorship and set up Chebacco News with their own ISP, please contact me and I'll be pleased to help them get going.
Sylvester is for sale:
I'm offering Sylvester for sale at £4500 to include a galvanised, braked Snipe road trailer and Mariner 4hp outboard. Please contact me if you are interested, atbill.samson@tesco.net
Cabin Windows – Jamie shows us how it's done!
Brass-bound cabin window on Wayward Lass
Jamie Orr writes:
I just borrowed a digital camera, took some quick shots of the new windows.
They've turned out fairly nicely, I think, all things considered. I used
1/8 flat brass stock. The inside was the most trouble, I drilled a hole
then used a sabresaw (jigsaw) to cut to the line. The outside I cut with a
bandsaw — wonderful tool, just used the regular blade and some eye
protection for the flying filings (brassdust?). I didn't cut as close to
the line as I should have because I was afraid to, so I had a lot of filing
to do afterward, but it was pretty straighforward stuff. They're held in
place with one brass roundhead bolt at either end, the curve of the cabin
sides put enough pressure on the middle. Seated the whole works in Boatlife
sealer. The cabin side is routed for the lexan panes — that was done way
back before the sides went on. (That was the biggest problem — predicting
the placement and cutting the holes before anything was actually there.)
Jamie
Wayward Lass struts her stuff at Depoe Bay
Jamie Orr trailered Wayward Lass to the boat show at Depoe Bay, Oregon. Here's what he had to say about it:
Hi
Yup, we're back, had a great time. Went over to Port Angeles, 45 miles west of Port Townsend on Thursday afternoon, and drove to Alan's place [ Alan Woodward, that is]. Got a little lost, but were saved by a Chebacco silhouette stuck on a pole at his driveway. Left about 9:00 next morning after breakfast (eggs from Alan's chickens, very fresh!) and drove and drove and drove.
We followed the Hood Canal, the big fjord that almost gets back to the sound at the other end, then turned west somewhere short of Olympia. Reached the coast at Longbeach (I think) and stopped for lunch shortly after. Then we crossed the Columbia river mouth on a very long bridge and entered Oregon at Astoria. From Astoria to Pacific City the road wound around a bit, going inland a lot. This was the hardest part of the trailering, as the trailer and boat go back 25 feet from my rear bumper, and the boat's just under 8 feet wide, as you know. I did a lot of concentrating, caught only glimpses of scenery for about two hours. The last stretch was more relaxing again, and we got in around 6:30.
Launched Wayward Lass and tucked her in, then went for dinner at the Spouting Horn with Larry Barker and John Kohnen. (Our party was myself, Dad, Alan and John Ewing). Then back to the motel, where Alan and John cunningly managed to get the suite (the motel had overbooked the cheap rooms so upgraded one of ours) that Dad and I had had our eye on, and so to bed.
Spent all Saturday, which was good weather after the first couple of hours, looking at and talking about boats. Depoe Bay is a small boat show, mostly on dry land. The harbour entrance and the bar outside make going out difficult except under good conditions. I talked to the guys at the Coast Guard station, and learned that on that day there was a "26 foot limit" which left us out. And I'm sure that they meant 26 footers with big dependable diesels! We did put up the sails and go out for a sail up and down the harbour — about 150 feet each way, with light to non-existent wind, coming from almost any direction due to the eddies. That was just to satisfy some kids that begged a ride.
Lot of interesting small boats — a Chamberlain dory skiff, same as I have the frames sawn out for, a Joel White faering, a whitehall, an immaculate Wayfarer, lots of river dories, several nice skiffs, including John Kohnen's Pickle, and a bunch more. Also saw Dan Pence's electric powered Ginger again, plus a Microtrawler with a big tugboat superstructure on it — looked just like a small working tug, right down to the dogs on the stem (sawtooth edge to give a grip on logs so you can push them around). I spoke to one of the owners, who said that unfortunately they couldn't get up on plane with all that weight, even with their 50 horse Honda! They're going to try some trim tabs at the back, I think.
Of the Port Townsend Bolgerites, we saw John and Larry, plus Jim Chamberlin. I wanted to say hello to Pat Pateson from the current list, but didn't meet him. I see from his Friday note that I did see him, or at least a guy with a neck brace beside the red elegant punt, but never spoke to him.
Sunday we woke to sheets of fine rain blowing by. The ocean and surf looked even more exciting than on Saturday. Went down to the show after a good breakfast, and saw that a lot of folks were packing up and leaving. So after a look around and quick chat with the organizer, we hauled Wayward Lass and did the same. The micro tug was already out, and I saw Dan headed towards the ramp too, so I think Ginger was right behind us, although I could be wrong. The lousy weather on Sunday was really a blessing for us. We'd done it all the day before, and had a long drive ahead. We took the freeway route to Olympia this time, and cut an hour off our time — got in to Port Townsend about 8:00. Back in the tent about 10:30. Up on Monday, breakfast again courtesy of Alan's "girls", then we followed him into town while he dropped off his wife's car, whose starter didn't. Had a quick look in at the wooden boat school, dropped Alan at home and headed for Port Angeles again. Got back to my own house about 5:00, just in time for dinner.
I don't know what it cost, and I'm not going to work it out. Had a good time and that's enough. Not sure we'll ever do it again, but I'm glad we did it this time.
I didn't take a lot of pictures — I guess I'm a dead loss that way, but Larry, and of course John, were both snapping away, and I expect we'll see theirs on the web pretty quickly.
Very pleased with the trailering. We covered 1,356 kilometres from start to finish, of which 1,318 were on US soil. I didn't track the gas mileage (kilometerage?) either, but we filled up 4 times, the last time in Port Townsend coming home.
Chuck [Merrell], sorry we couldn't fit in a visit. Didn't realize just how big a distance we had to cover and how long it would take. See you another time!
Cheers,
Jamie
Jamie gives himself a fright!
Jamie (again – What's happened to everybody else?) writes:
Hi Bill,
I went for a little trip on Friday night, which turned into a "learning
experience". If I wrote it as a story, I could call it "Heavy Weather
Sailing and Stupidity, or Why You Should Listen to the Weatherman!"
I wanted to go over to the US side to drop in on a Traditional Small Craft
Association messabout at Bowman Bay, about 30 miles due east of Victoria.
To get there for Saturday, and catch the tide, I planned to leave right
after work on Friday, hopefully arriving about midnight. I figured that
with all the lights on the south side of the San Juan Islands, I should have
no trouble finding my way (true). I launched on Friday morning, and parked
Wayward Lass in Victoria's Inner Harbour for the day, just a minute away
from my office. At lunch time I went down and did the smartest thing of the
whole trip, I tied in two reefs in preparation, then furled the sail away
again. The forecast was for winds of 15 to 25 knots from the southeast, so
I was thinking that I would probably cancel the trip.
I got away from the dock at 5 p.m. By then the weatherman said there should
have been winds of 5 to 15 knots, but it was dead calm, with no waves
outside the harbour. So I thought I would go east for a while and see how
it went, before I quit and went home. I fiddled around putting up my
battery operated nav lights, getting the anchor line ready and generally
straightening things up, then motored off, pulling Alan's elegant punt,
Creamsicle. For a couple of hours it continued calm, with only scattered
cloud. As the light went, some waves appeared from the east, with a light
wind. Even once it was dark, there was still a lot of light from various
towns on the San Juans, and Whidbey Island, plus isolated house lights, in
addition to the lights shown on the chart.
Things started to get more lively. The waves built up very quickly, and I
had to throttle back so we wouldn't pound. (I was still motoring because
the wind was right in my face.) Then the wind picked up quite a lot, so
that I was getting a lot of spray blowing back even when we weren't
pounding, which we were starting to do every third wave, or so. I estimated
that I was about 1/2 way there or a little less, and since guesstimated
headway was almost nothing, I decided to turn for home — about 9 p.m. now.
I would say that was the second smartest thing I did, except there wasn't
really any choice by now. I considered sheltering behind Lopez Island, but
I wasn't sure I could even get that far, and I didn't have a large scale
chart of the area if I did.
So, I put the motor out of gear, and let the mizzen hold us head to wind
while I raised the double reefed main. The dinghy nuzzled us while I did
this, to the detriment of my paint. Then I shut down the motor, and turned
downwind. The boat took a while to turn, it seemed quite happy to point
just a little upwind of broadside on, but once I got her moving, she turned
okay. Then talk about having a tiger by the tail! I had my hands full just
steering downwind. Every wave tried to push the stern around. Wind and
waves were mostly from astern, but just a little bit on the port quarter. I
let the mizzen weathercock so it wouldn't help push us around so much. It
felt horribly out of control, but gradually I realized the boat was handling
it, at least.
I don't know if a larger rudder would have helped, as it was mostly the
waves pushing the stern around, not the wind — although the wind was doing
its bit as well. Once or twice we broached completely, swinging 90 degrees
to our course, and taking the next wave broadside. I thought about raising
the centreboard to see if that helped, but the lanyard hadn't been fastened,
and it had gone down the hole, so I don't know yet if that would have made a
difference. Then I thought I'd try motoring, and see if I had more control,
so again the mizzen held us into the wind, more or less, while I furled the
main and the dinghy nuzzled us some more. The I undid the dinghy painter
and pulled it out of the motor's bottom half. But when I went to start the
motor, the motor that never takes more than 2 pulls, it wouldn't go! And
after half a dozen pulls, the recoil mechanism wouldn't either. (It just
came out of the shop after having that fixed, too!) So now I was firmly in
the 19th century for my technology, whether I liked it or not. I got the
main up again, and got back to sailing. About the same time (I stopped
keeping notes some time before) I took down the mizzen, mast and all,
pushing it as far as it would go into the cabin. I also moved the dinghy
painter to the midships cleat on the lee side, as it had drifted downwind,
and I thought it as hindering me when I tried to turn downwind again. I
noticed there was some water in the dinghy, but it didn't seem enough to
worry about, compared to the general state of the world. By this time the
wind was probably 20 knots anyway. The waves were huge, to me, and short
enough that they were very steep. Some of them were breaking at the tops.
I could hear them hissing and rushing up behind me, and was happier not
looking at them. Later, I estimated that they were probably no more than 5
feet from trough to crest, but from crest to crest was probably only 40 feet
or less — the wind was against the tide, which I should have considered.
At least it wasn't raining.
I was able to control Wayward Lass a little better now. I was hoping my
troubles were over, but about then the dinghy painter snapped. I heard it
and felt it go, but by the time I'd picked up the spotlight and turned into
the wind, I couldn't see it anywhere. I guess it picked up so much water
that it became too heavy for the rope. The painter broke right in the
middle, maybe it had a kink or knot from when I had to undo it to clear it.
Anyway, that simplified things even more, and the rest of the trip was
relatively uneventful, except that I succumbed thoroughly and completely to
the sea sickness that had been hovering at the edge of my consciousness —
try dealing with that at the same time as not broaching! Sometime after
midnight the wind dropped rapidly and the waves downsized to a well behaved
swell. I took both reefs out, but even then it was suddenly very slow
going. I let the sheet go and drifted around while I took off the engine
cover and wound on the "emergency" starter cord. I pumped the gas up
carefully, choked the engine, and it started first pull! So it was down
sails for the last time, and motored in — had to dodge a lot of wood in the
water, including one large log dead in my path. The storm probably washed
them off the beaches, they only seemed to be a problem near shore. I had to
motor about 5 miles along Victoria south shore, but there was enough light
reflecting off the water that the logs showed up well.
I got into Fleming Beach just after two a.m., never so glad to get ashore as
I was then. Took a while to pack up and recover the boat, I was literally
staggering with tiredness and feeling lousy. Stopped at a doughnut shop for
a snack, there were several police there on their break, and I wondered if
they would think I was drunk! (They didn't, or at least left me alone.)
So I'm a little bit smarter now, I hope. I'll pay attention to the weather
forecast, even if there's nothing in sight to bear it out. I never, ever,
want another night like that one. On the plus side, I now have tremendous
confidence in the Chebacco. Even when we broached, she never threatened to
go over. When I was taking down the mizzen, we were "lying ahull" I guess,
and she moved about pretty briskly, but again she felt "safe". Mind you,
after a while you get used to being terrified! We never took any green
water aboard, from any direction. I think that flared bilge panel deflects
most of a sideways wave under the hull, like a big wedge. And both ends
seemed to ride up and over anything. I got a fair amount of spray over the
bow when I was motoring into the wind, and a few good shots sideways, but
none to speak of when running or hove to. (I feel like a real sailor when I
use that!) The mizzen held us well up to the wind despite (or because of?)
it being quite strong.
And that was it for the night. There is a happy postscript to it all,
though. After I broke it to Alan that I'd lost his punt, I called the Coast
Guard to report it in case it should show up. After several transfers, I
spoke to a very helpful fellow in Rescue Coordination, who took all the
details. And then this morning (Sunday), in the middle of typing up a
"lost" notices to put up at marinas and boat launches, I got a call from the
same people to say that a dinghy of that description was being picked up by
the Victoria Clipper, the catamaran passenger ferry from Seattle. Ten
minutes later someone on the ferry called to say they had it, and I could
pick it up at their dock when they arrived, in about 4 more minutes! So I
went right down, and there she was, the paint a little dinged up on one
gunwale, but otherwise none the worse for it all.
So that's my news today, guys. I feel moderately dumb for virtually
ignoring the forecast, and I'll probably regret telling anyone about this,
but I probably learned more in the three hours between 9 and midnight than
in 10 years of normal sailing, so it wasn't all for nothing!
Cheers,
Jamie
A purpose-designed tender for a Chebacco:
Chuck Merrell has designed a tender for Chebacco, to Jamie Orr's specifications. Jamie will be building the prototype of Apple Tart.
Apple Tart is designed to fit inside the cockpit of a Chebacco, for trailering, and can then be towed behind the boat when sailing, allowing the sailors to get ashore when the shoreline is unsuitable for running the Chebacco up onto the beach.
Apple Tart is the smallest of a series of three prams that Chuck has designed, the others being Apple Pie (7'6″) and Peach Pie (10'). Bill McKibben has prototyped Apple Pie and Bill Samson is building the prototype of Peach Pie, which will have a spritsail rig.
Contact Chuck at chuck@boatdesign.com for further details of these pretty little boats.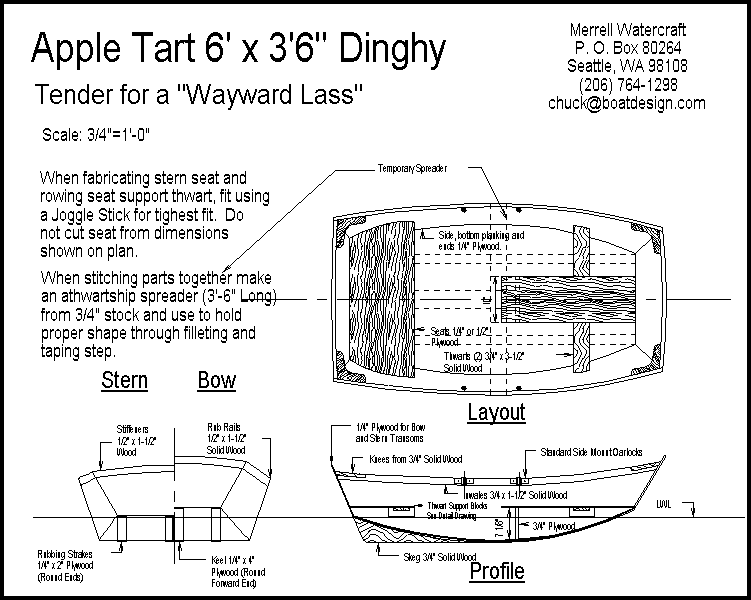 Jim Slakov's rigging sketches:
Dick Burnham was kind enough to pass on Jim Slakov's sketches and specifications of the rigging he uses on his immaculate lapstrake Chebacco, Kelani Rose.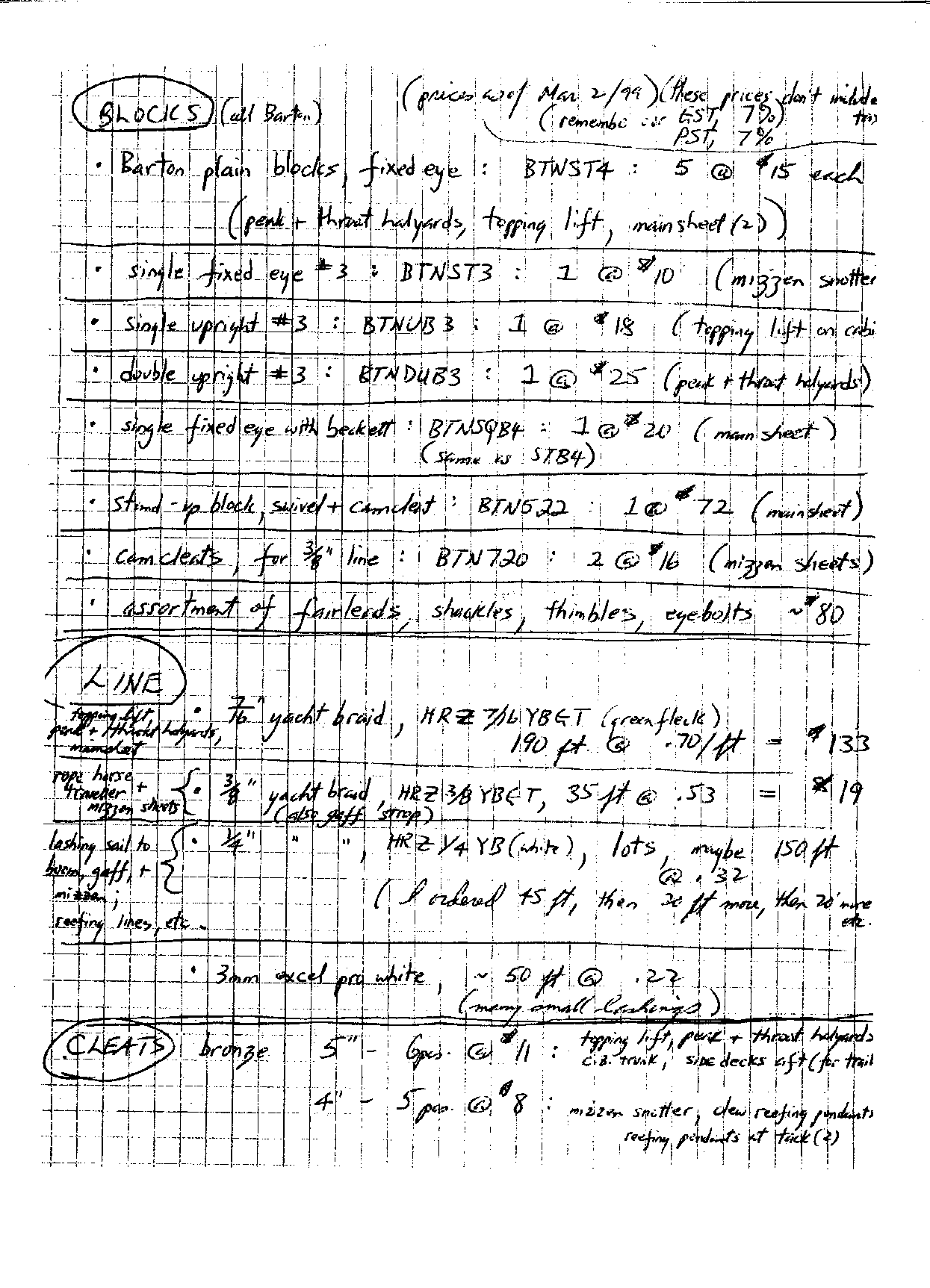 So there you have it!
Of course I hope you'll all keep in touch and let me know how you are getting along with your projects.
I also want to thank you all for helping to keep Chebacco News going for 7 years.
Bill Samson, 88 Grove Road, Broughty Ferry, Dundee DD5 1LB, Scotland
bill.samson@tesco.net