Chebacco News
Number 6, November 1995
Peter Launches!
Peter and Sandy Gray, of Queensland, Australia, have launched their Chebacco. As far as I can tell, this is the first amateur-built Chebacco to be launched. (If anyone knows this to be wrong, please let me know!) Congratulations to Peter for a great achievement.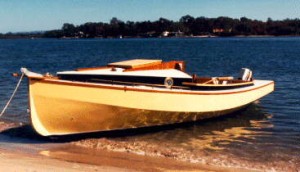 Gray Feather afloat in the Noosa river.
Peter writes:
Dear Bill,
Well, it has finally happened. Our boat was launched on 31 August 1995.
It was a beautiful morning on the Noosa river as our boat slid off its trailer and into the water. She sat exactly on the waterline and looked a picture. I stood back to take a photo of her but our camera wouldn't work. At that moment a person walked down to admire her and after seeing that our camera didn't work, he offered to take some photographs for me (- he was a professional photographer). After the photos were taken, Sandy and I boarded the boat and motored off down the river.
. . . the sails will come later. She has an 8 hp long shaft Johnson outboard. I estimate that she cruises at about 6 kts comfortably.
Bill travels and Gil flips . . .
I was fortunate to be in the USA on business at the start of October and took some time off to visit Gil and Joan Fitzhugh in New Jersey, and Bill and Mary Parkes in Pennsylvania.
Gil kindly timed the 'flip' (ie lifting his hull from the molds and turning it right way up) to coincide with my visit. A host of neighbours and relatives turned out for the flip and they were fuelled by generous quantities of grog and grub supplied by Gil and Joan. The flip went without a hitch – apart from participants having to dodge acorns falling from 100 foot high oaks around the boat. I was particularly impressed that the hull lifted off the mold without a murmur – no screws had been left in; no glue had stuck the hull to the molds.
Gil's hull is beautifully fair – the product of more hours of sanding and filling than I care to imagine – and the plank lands are sweet and fair to the eye. Now for the fitting out . . .


Gil Fitzhugh's hull safely flipped and on its trailer.
Bill Parkes travelled from Mechanicsburg to assist in the flip. I went on to spend a couple of days with Bill and Mary. Bill is planning to build a sheet ply Chebacco. He has already built two Bolger boats – a Nymph and a Gloucester Light Dory. He took me rowing in the Light Dory on the Susquehanna river. Having rowed and admired it, I can understand why it is called Phil's 'ticket to Heaven'.
Sincere thanks to Joan, Mary, Gil and Bill for their kindness and hospitality to me during my visit, and particularly for allowing me to OD on boat talk with them!
Want molds for a lapstrake Chebacco?
Now that Gil Fitzhugh has completed his beautiful hull, he has a set of molds that are now surplus to his requirements. If you are planning to build a boat like Gil's, you are welcome to take away his molds, free of charge, also saving yourself the hassle of lofting the lines full size. Gil would rather they went to a good home than put them to the torch. You can contact Gil at his home in New Jersey:
Mr Gil Fitzhugh,
Primrose Trail,
Mt. Kemble Lake,
Morristown,
NJ 07960
e-mail: joancarol@aol.com
phone: 201 425 9010
Chuck Merrell on Anchors

'Tomboy'
Chuck Merrell of Seattle lives aboard 'Tomboy', a 'Jessie Cooper' designed by Phil Bolger, and is currently finishing 'Wonky' a steel 'Tahitiana' ketch which he bought half-built. Chuck is a self-confessed anchor-obsessive and emailed me with the following observations in response to the chat about anchors and how to stow them in Chebacco News #5:
Hi Bill, I usually singlehand, and even if there is someone with me, I generally wind up doing most everything by myself anyway. Singlehanded anchoring is always a problem if you have to leave the tiller to drop the hook, especially on a boat like Tomboy. Wonky wouldn't be such a bad problem, but anchoring from the bow still takes a thirty foot run from the cockpit to the front end and back.
On Tomboy, I keep the anchor permanently mounted on the stern, and keep the anchor chain in a bucket in the cockpit. (I use 30′ feet of chain). I have the chain shackled to the nylon anchor rode which is led back to the bow, through the chocks and cleated off. When I'm ready to anchor, I have made up a little quick release device that allows me to drop the anchor out of its mounts as the boat is moving forward. I hold the chain bucket overboard so the chain doesn't flail against the boat as it runs out. The rode follows the chain and the forward motion of the boat digs the anchor in and turns the boat in line with the anchor, then it can be backed down and set and adjusted at my leisure. The system works great, and you don't have to leave the tiller during any part of the operation. I've done it dozens of times, and never have had a mishap under power or sail, regardless of how hard the wind is blowing or what the conditions. The way I have the anchor mounted makes it very easy to deploy, and the anchor always stays put even in heavy weather till it's time to let it go.
That brings up the subject of what kind of anchor to use. According to what you say, Phil has recommended a 25 pound Plow, or an equivalent Bruce. Phil as you know is a "belt and braces" man, particularly when it comes to anchors. In my opinion, a 25 pound plow is almost 3 X overkill unless your local conditions absolutely dictate the choice. This anchor is better suited to a boat weighing about 6,000 lbs, not a daysailer less than a ton. A 25 pound plow is about the smallest you can buy, and Phil probably recommended it because he figured any Scotsman worth his Haggis would want to spend the money at home with Simpson Lawrence. I don't like to use a plow unless I have a bowsprit and winch. They are heavy, and it's easy to bang the topsides and pinch your fingers. A 25 pound isn't too bad, but on a pitching foredeck, my 45 pound can really smash a pinkie and make dents in the topsides or deck. (I've designed Wonky's bowsprit and rollers to work in such a way that there is no way raising an anchor will bang into the hull regardless of the conditions. You'll see when I get the pix developed and scan them to you.)
Bruce anchors are nice in certain types of bottoms, and they don't foul easily, and will reset in their own length if they drag. But they're pretty expensive, and in general don't perform much better than a Danforth type, especially to anchor a light boat like the Chebacco. Danforths and Bruce anchors are roughly for the same type of bottoms, but the Bruce is harder to stow.
I think that I would use an 18 pound standard Hi Tensile Danforth (assuming that a Danforth type will work in your ground conditions) with 30 ft. of 5/16″ BBB chain as my working system on a Chebacco. One thing is, with that setup, you could sit around and wonder if the anchor was holding the boat, or could you just get by with chain only (just kidding). A 1/2″ nylon rode would be nicer to hand, but 3/8 nylon would be plenty strong enough. A Danforth can be made to hang on a flat vertical transom like the Chebacco has. If you use the natural design of the Danforth, the flukes will fall away from the boat when stowed, as well as deployed, and never cause marring. You can use a second 18 Lb Danforth on a Bahamian mooring arrangement if you anchor in the river. You can leave the anchor rigged and hanging in its bracket when you are tied to your mooring, or when trailering down the road. This is a good system if you ever really need to anchor fast.
For comparison, on Wonky which weighs 20,000 lbs, I have the following ground tackle: 50 Lb Herreschoff, 45 Lb Plow, I built the following anchors: 40 Lb Danforth type, Two 40 Lb large fluked folding Yachtsman anchors, 18 Lb. Kedge, 5 Lb Kedge. 200 ft of 5/16 Hi-tensile chain, 200 feet of 5/16 BBB chain (given to me as a gift), and a couple dinghy anchors. For storm conditions I would becue the 50 Lb Herreshoff and the 45 Lb Plow. For Hurricane I'd also put out everything else, and all the chain. For nylon, I have 600 feet of 3/4″ Guess you get the idea that I like anchors and feel that you can never have too many, huh?
. . .
Have a good weekend.
Chuck
Fraser's stripper . . .
Fraser Howell continues to make astonishing progress on his strip planked version of Chebacco. He sent me a whole bunch of photos of which a small selection are included in this newsletter. The captions are supplied by Fraser.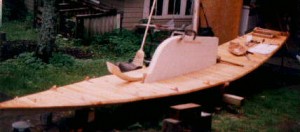 Here is the bottom, while fitting the CB case. The roughed out laminated stem is just beside the case. You can see that I built up the base of the stem where it will bear on the bottom. This stem enlargement made it easier to fit in a free-standing fashion. I fit it with a 1/2″ stainless steel post that passes through the stem enlargement and the keel ( – I had just broken a molar repaired in a similar fashion). You can also see some distortion of the bottom due to moisture. At this point the 'boat' went back into the shed, dried out and came back into shape. I then turned it over and applied the 1/4″ ash veneer in epoxy.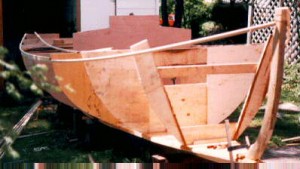 Some time later, transom, main bulkhead, stem and molds ready to be aligned. You can just see the untrimmed edge of the bottom veneer.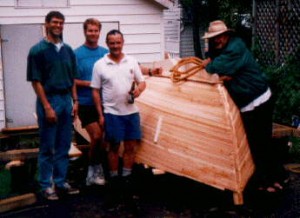 A successful rolling crew. I don't know why the rest of them are smiling, I'm the only one with a beer.
Fraser's other photos show details of the stripping process, scarfing of strips, breasthook and knee and various views of the hull. He writes:
I made the seat supports, after cockpit bulkhead etc. out of 5/8″ exterior ply. There are two partial bulkheads on each side to support the seat. I placed them at mold stations. This allowed me to use the mold profile rather than scribe them. The forward and after bulkheads were scribed to fit. All bulkheads were epoxy filleted and taped with 4″ wide 10 ounce cloth. I put in all that internal structure to stiffen the hull for the roll-over and hold the shape. Molds 3 and 4 were left in for the same reason.
Presentlly, I'm planing the 1/8″ ash veneers. I will lay them at right angles to the strips, stapled in thickened epoxy. I'll then fair and seal the hull exterior to leave it through the winter . . .

'Nencia'
Alessandro Barozzi sent me this photo of Nencia, his lapstrake Chebacco which has no cabin.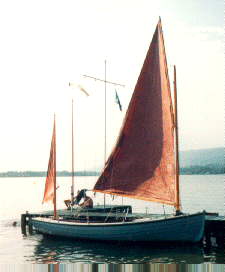 'Nencia'
I fear I must apologise for getting the builder's name wrong. He is Casavecchia (not Casavecellia). I was also wrong when I described her as an 'open' boat. She is mostly decked, with a self-draining cockpit. She is certainly a most attractive boat and may give some of us pause for thought as to whether we really need a cabin, when she looks so good without one.
Alessandro has been out of action recently, with surgery to his right arm. I hope he makes a full and swift recovery so that he can continue to enjoy his sailing.
Bill Samson's Sheet Ply Chebacco
My own Chebacco is now complete except for spars, sails, outboard and trailer.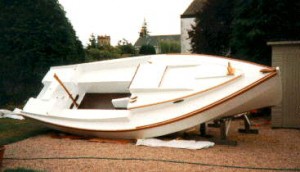 Bill's Chebacco tilted to receive its centreboard and rudder.
The next two photos show the lower gudgeon (pintle??) for the rudder. This is made from galvanised iron. Note the nylon bush to take the downward thrust of the rudder.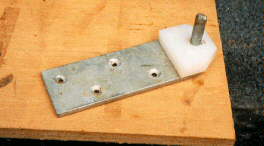 Galvanized gudgeon before fitting (Yes- I know it's countersunk on the wrong side! In fact it is countersunk on both sides.)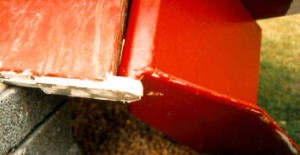 Gudgeon and rudder in place; bedded in liberal quantities of Sikaflex.
And Finally
This has been a great year for amateur Chebacco builders with Peter Gray getting into the water and Bill Samson hoping to follow soon. Please do keep in touch and let me have your news. Thanks to those of you who have sent me letters and photos as well as those who have sent financial donations to help keep this little newsletter afloat.
Bill Samson,
88 Grove Road,
West Ferry,
Dundee,
DD5 1LB,
Scotland
w.samson@tay.ac.uk
Have a Merry Christmas and a Happy New Year!