Chebacco News
Number 13, January 1997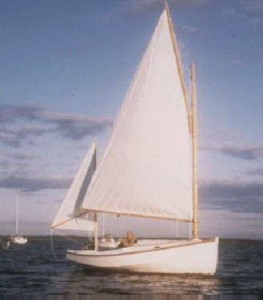 'Sylvester' ghosts home at sunset.
Taped Seams – How many layers?
A couple of readers contacted me recently about the taped seams of the sheet-ply Chebacco. In essence they were asking how many layers of glass are needed on each side of the joint. I asked Phil Bolger for his advice. He replied:
. . . two layers of tape inside and out, including the overall sheathing outside (which is highly recommended), is entirely adequate, and that the second layer on the inside is not critical. Dynamite Payson's experiments with a single layer inside and out suggest that the veneers will let go before the tape does, but we did break a single- taped joint at the tape in half-inch plywood. These joints are not very highly stressed oncce assembly is complete.
Cruising version of the Chebacco 20
You'll remember that I canvassed opinion some time ago about possible demand for a cruising version of Chebacco with raised deck and more accommodation so as to be suitable for more extended cruising than the original Chebacco. Phil writes:
On the cruising version of the Chebacco 20, we have done no more than think about it sporadically, and probably won't do more on it on speculation. If there was enough interest for a group to club together and raise among them US$1000 to commission it, we would be stimulated to give it the attention it should have to be worth doing at all.
If anyone is interested in being part of such a group and (hopefully) coordinating it, please write to me so that I can put you in touch with each other. My address is given at the end of this issue of Chebacco News.
Bob Cushing's high-sided Chebacco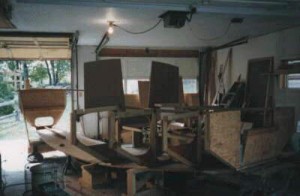 Transom and bulkheads are in place on the keel and bottom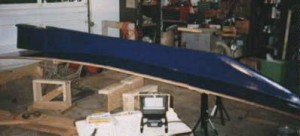 The ballast keel and bottom are constructed first
Bob Cushing reports progress on the construction of the first high-sided Chebacco-20 – the 'Glass House' version. He writes:
I am starting on the sides now and expect to be done and in the water with it this spring. I am not a sailor so this will be my learning boat. I may try and get a look at some regular Chebaccos before attempting the rigging of mast, sails etc. as I am a complete novice at that.
The plans are quite good, as Phil's always are but much of the building details are up to the builder. Expansions are given for the bottom panels but not for the bilge panels (- those are fitted and sized by hand). Actually I think it is easier to just back an approximate sized piece of ply up to the side and bottom panels and using a fairing stick trace the pattern out right from the boat bulkheads and then double- check against expansion measurements.
I am using a mixture of woods and plywoods. AC fir and MDO plywood. The MDO (medium density overlay) was tested for myself and another builder by Gougeon Brothers (the WEST System guys) as to strength of epoxied joints and it tested fine – just as strong as regular plywood epoxy joints. Framing is mostly Douglas fir with some oak and basswood.
I will keep you posted on progress. Feel free to post my address for others who have queries –
Bob Cushing, 5998 East Lake Road, Cazenovia, NY 13035 USA
b.cushing@csss-a.cv.com
Bob also sent me a photo of a very nice Microtrawler which is for sale with or without outboard and trailer. Enquiries to Bob at the above address, please.
Lapstrake Chebacco is turned over!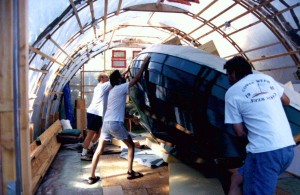 Jim Slakov and friends turn over the hull
Jim Slakov, of Sechelt B.C., Canada recently turned over his lapstrake Chebacco's hull. He's progressed a lot since then:
My Chebacco is coming along fine; today I fit the cabin sides, which are 1/2" cherry (as are the sheer planks, coaming seatback, and all the wood trim in general, including the outer stem). I made short deck-beams, dovetailed into the carlin, to hold things in place before the decking was glued and screwed on. So far the mid bulkhead is in place, and the foredecks, and cabin sides; I'm beginning to see why you call these big dinghies. My neighbour calls it a hippy-boat, I thnk that's a compliment, what? I'm opting for the mast slot rather than a hatch and will probablyy refer to 'Gray Feather's mast boot and mast hatch when the time comes.
Jim also sent a picture of the moulds. Notice that he uses chine logs, rather than the epoxy/glass fillet specified in the drawings –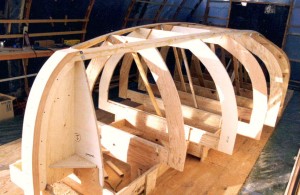 Jim Slakov's moulds, showing chine logs.
Sechelt is the only town in the world with two Chebacco News readers in it! Jim tells me that Garry Foxall, also of Sechelt, helped with the turnover. Garry is planning to build a sheet-ply version this winter.
June Bug – a perfect tender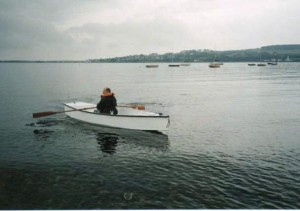 Bill Samson happily rows 'Tweety Pie' – 'Sylvester's tender
Some issues ago I reported that, on Phil Bolger's recommendation, I was to build a June Bug as tender to 'Sylvester'. I completed 'Tweety Pie' some weeks ago and am very pleased with the result. She rows smartly, is manoeverable, light (just over 100 pounds), and very stable – important in a tender where non-sailor guests are to climb on and off the boat.
If, like me, you plan to keep your Chebacco out on a mooring in open water, and need to row against tides to get there, then the June Bug is perfect. If you plan to build one as a tender, be sure to make the gun'ls good and strong; they take a lot of beating when coming alongside in a chop. Mine were a bit skinny (rather thinner than specified on the plans) and I subsequently had to beef them up.
As well as using the 'Tweety Pie' as a tender, I've also enjoyed rowing her for pleasure in the Tay Estuary – sometimes with a passenger. She's at her most enjoyable in calm water; her flat bottom pounds noisily in a chop, though progress is little impeded.
Instuctions for building the June Bug appear in Dynamite Payson's book 'Build the new instant boats'. Full scale plans can be bought from H.H. Payson & Co, Pleasant Beach Road, South Thomaston, ME 04858, USA.
A successor to Black Skimmer
Those of you who haven't yet committed yourselves to building a Chebacco may well be interested in Phil Bolger & Friends' design #639 – a sharpie schooner of about the same size as Black Skimmer. #639 is 23'6"x7'1"x1'2" with a schooner rig similar in layout to that of the Light Schooner (or 'Scooner'). Lateral resistance is provided by leeboards. Interestingly, Scottish designer Iain Oughtred was reported in Classic Boat magazine as having Black Skimmer as one of his top ten favourite designs of all time. When Phil discovered this he wrote:
It's a little ironical that the plug for BLACK SKIMMER (long a favourite design of ours, too) comes just as we finally produced a design to supercede it; about the same size, but with a schooner rig, water ballast, and a 'Birdwatcher'-type raised deck, to be more seaworthy, more roomy and easier to transport by road trailer. The new design, first of a class, we hope and think, is well along in construction.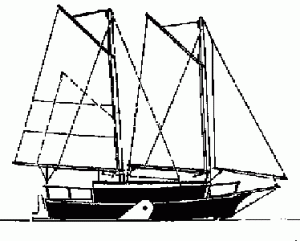 Profile of the Black Skimmer Successor
[ Thanks to Chuck Merrell for this scanned image]
[If you want to order plans you can get them from Phil Bolger & Friends Inc., Boat Designers, PO Box 1209, 29 Ferry Street, Gloucester, MA 01930, USA.]
Rigging a Chebacco-20
Those of you who are building a Chebacco-20 and have little or no experience of rigging a cat-yawl may be interested in how I did it on Sylvester.
At the mast head three blocks are needed – one for the peak halyard, one for the throat halyard and one for the topping lift. I put three stainless eye-bolts through the mast head, as attachment points for the blocks. The eyes for the peak anad throat halyard blocks are on the aft side of the masthead, and the eye for the topping lift block is on the port side. The blocks were all of the fixed eye/becket type, 1 3/8" x 7/16" for the topping lift, and 1 3/4" x 1/2" for the halyards. You can spend a lot, or a little on such blocks, depending on whether you want plain or ball-bearing. I went the low cost route and used Barton plain blocks , ST2 and ST3.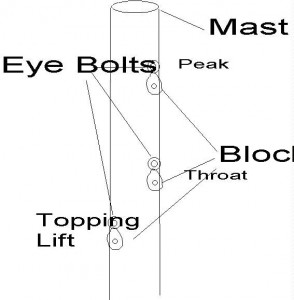 At the partners, where the mast goes through the cabin roof, I put upright blocks on the cabin roof to turn the halyards and topping lift , allowing them to be led back to the cockpit. A single upright block was used on the port side for the topping lift, and a double on the starboard side for the peak and throat halyards. These were 1 3/4" x 1/2", Barton UB3 and DUB3 respectively.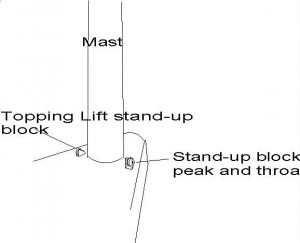 I put 6" horn cleats on the cabin roof either side of the companionway hatch, one to port for the topping lift and two to starboard for the halyards. One refinement worth including is three little plastic fairleads to lead these lines past the hatchway slides, which they would otherwise foul.
I used 1/2" braided line for the halyards and 3/8" for the topping lift.
The main sheet arrangement is best described by following the sheet from its attachment to the becket of a fixed eye/becket block (Barton STB4) which is lashed to the clew end of the boom. From there it travels through a fixed eye block (Barton ST4), which is shackled to the rope horse and then back up through the block at the clew end of the boom. From there it goes for'ard to another ST4 block lashed to the boom just above the end of the centreboard case and then down to a Barton 522 stand- up block and swivel with camcleat which is bolted to the top of the centreboard case.
The main sheet is 1/2" braided line.
The mizzen sheets lead from the sprit-boom end, one either side, to fairleads at the port and starboard quarters, on top of the aft buoyancy tanks either side of the outboard well. From these fairleads they come for'ard to camcleats on top of the buoyancy tanks within easy reach of the helmsman.
That's all there is. If you go the economy route, like me, it'll probably cost about £150 ($225) for the fittings mentioned here. I must say that these fittings have been perfectly satisfactory, so far. Going the luxury route with, perhaps, ball bearing fittings by Harken, you could probably spend three or four times that much.
One of the great things about the Chebacco is that it has so few fittings – no winches are needed, no shrouds; a delight to Scotsmen of whatever nationality!
'Toulouma Too' for sale:
Sister Krista is reluctantly offering her Chebacco for sale. Reasons for the sale are that she needs more space and amenities due to expansion of crew numbers, so she is upgrading to a larger boat. Here are the details: For Sale: 20-ft Bolger Chebacco cat yawl, plywood version built by Brad Story, 1991. Excellent condition (top-sides and deck painted Spring 1996). Kept under 80% cover. 4hp Yamaha 1991. Extras (all new, 2-3 years old): Origo alcohol stove 2 (4" thick) custom-made sleeping cushions (1996) cockpit tent with screens porta-pot flag staff and flag Call: 609 461-0658 evenings, Monday through Thursday 609 698-1863 evenings, Friday, Saturday and Sunday
News, enquiries etc should be sent to me:
Bill Samson, 88 Grove Road, West Ferry, Dundee, DD5 1LB, Scotland
Email:- wbs@sol.co.uk
1