Chebacco News
Number 25, March 1999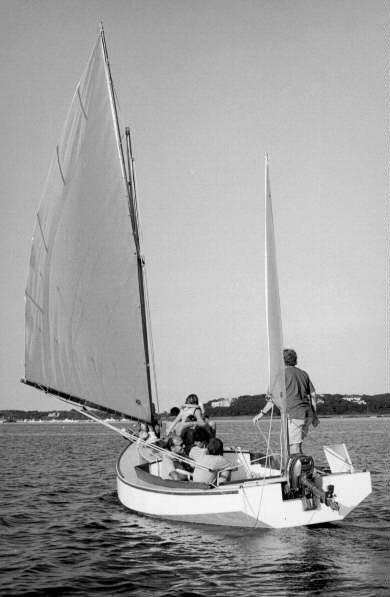 Another glorious shot of Tim Smith's LARK strutting her stuff off the New England coast. [Incidentally, these stunning monochrome shots of LARK have been just the lever needed by some of our readers to persude their better halves that the Chebacco is the perfect boat from them!]
Change to Web address:
Note that the World Wide Web address (URL) for Chebacco News is now
http://www.sol.co.uk/w/wbs/chebacco.htm
A Get-together for Chebacchisti?
I have been discussiong the possibility of a get-together for Chebacco-type people with various members of our elite [ahem!] circle, and it looks like the greatest concentration of Chebaccos is in the British Columbia area. I therefore asked one of the local guys, Jamie Orr, what he thought of the idea. This was his response:
Subject: Chebacco Gathering
Date: Fri, 11 Dec 1998 16:15:22 -0800
From: "Orr, Jamie" <JORR@oag.bc.ca>
To: "'Samson, Bill'" <wbs@sol.co.uk>
Hi
I spoke to Jim Slakov and Randy Wheating last night. Both thought the
idea of a gathering was a great one. I expect something will happen
here anyway, and if we can bring in some other Chebacco and Bolger fans
from other areas, that would be perfect.
I didn't take notes, but here's what I think I heard. Jim's boat is
finished and ready to launch come Spring. Gary Foxall, according to
Jim, has his boat turned and is working on the seams, the centreboard
case and so on. Randy's boat is still upside down, but he's moving
ahead too. Randy also corresponded a while back with someone in the
interior who was thinking of building — so there may be another boat
somewhere in the hinterland. He (Randy) thought that he could probably
be done by September of 2000 (see below), said it would certainly give
him a goal.
So it looks like there will be at least 3, probably 4 Chebaccos in the
water by then. Do you think its worth putting out feelers in Chebacco
News this early? As I said, there's a strong chance a gathering of some
sort will happen anyway, and it would be good to meet some of people
from the Bolgerlist and the News.
Port Townsend's Wooden Boat Festival is the first weekend after Labour
Day (the first Monday in September — does that hold true in Scotland?)
I don't know if that would be a problem for potential attendees with
children, as school goes in the day after Labour Day.
Of course, having the Festival as a venue means that if only a few
people turn out, there's still lots to do and see.
Jamie
PS Jim and Gary made their own sails. (All three of us bought the
materials at UK Sails in Sidney — 20 miles from Victoria on the way to
the mainland ferry — helpful folks.) Guess I'd better get a hustle on.
So there you are. If you're interested, why not contact me or Jamie with your views?
Plywood?
I received the following email from Dr Dick Burnham, currently in Papua New Guinea:
Date: Sat, 13 Feb 1999 16:26:11 -0500
From: "Burnham" <burnham@datec.com.pg>
To: "Bill Samson" <wbs@sol.co.uk>
.My son is sending here xeroxes of the Payson-purchased sheet-Chebacco plans. I'll study them and build a model. 1/16th inch ply–per your suggestions–if there is any here, otherwise I'll just have to have some 1/16th rosewood or something equally exotic bandsawed for me to splinter and shove and glue up.
I was surprised by your suggestion to epoxy the interior side of the ply with 3 coats. The plywood is truly weather proofed; it is the baloney in a sandwich. No wonder some consider using non-marine grade ply. BTW, would you consider asking your newsletter folk to respond on what kind(s) of ply (and approx. cost/sheet) they used for the sheet-Chebacco? [OK guys – Fess up!] And how they arrived at their choice? It would be curious to see if you could construct a little chart on what, why, how much…even post-building analysis (such as: are they happy with it, does it have problems).
Now I see that the ply is so protected: glass cloth+3(?)coats epoxy outside, 3 coats inside. It still does more than merely make a form for glass, though. Or so it seems to me. It is structural and of course is in charge of resisting the log jammed into it on the water. Still wondering here about Parker's use of "form-ply" which has US southern yellow pine exterior plys and has "waterproof" glues — after all it is a ply that must resist the sludge-like characteristics of wet concrete and must have sufficient
rigidity (better inner cores?) than other plys….
Regarding fiberglass. Has anyone tried Dynel, Xynole (I think?)? It is a highly abrasive resistant cloth that is knows to take kindly to curving forms…. Good for bottoms….
In your #23 you speak of Gray Feather as "having a bone in her mouth." Just found in the delapidated library on this so tropical campus a copy of Slocum's writings. Indeed he uses the very same phrase to characterize Spray as she turns from S. America and scoots westward with tradewinds to hold her leash onward toward Polynesia.
From deep in Melanesia,
Yours truly,
Dick Burnham
So – Write to me about your ideas on plywood. I'll fess up first – I used pretty cheap Far-Eastern ply labelled BS1088, though it was clearly nothing of the kind. It has frog-hair thin outer veneers, and thickish inner ones. On the other hand the glue is certainly waterproof and there are few if any voids in the inner veneers. My theory is that glass/epoxy sheathing would make it acceptable, and so far I've had no problems (3 years after luanching). Let's hear your stories!
Sails
The following email came from Jamie Orr:
Date: Wed, 14 Jan 1998 16:05:00 -0800
From: "Orr, Jamie" <JORR@oag.bc.ca>
To: "Samson, Bill" <wbs@sol.co.uk>
Lovely work, Bill
I was amazed at the quality of the print I sent in — are you sure you aren't enhancing these things? My first thought was that we really have to get the cedar siding on the house refinished this year!
I hope to be able to send in some news on sailmaking soon. I've started with the mizzen, that being the simplest. I cut it out with straight lines all round and seamed it absolutely flat — as flat as my basement floor, anyway.
I'm using the two-sided tape to hold the cloths for sewing — I can't imagine doing without it at this stage in my relationship with my sewing machine. It's an old Pfaff 138 with a motor that never stops (or even slows!) and a hair trigger clutch. Even after using up two bobbins in practice, my first seams were still "interesting". However, it's gradually getting tamer, and the power is wonderful — the toughest
thing I've done so far is five layers of 4 ounce dacron in the clew patch, but the machine never noticed.
For holding the corner patches in place, I used a few strokes of one of the kids' gluesticks. These are like lipstick tubes with soft quickdrying glue. It seems to stay flexible and doesn't print through the cloth. To be on the safe side, I stuck each patch in the stack to the next, stuck the whole stack to the sail, then left some heavy books
on top for half an hour before running it through the machine. Of course, the books had to be the right sort — I found Chappelle's "Boatbuilding", Howard-Williams "Sails" and PCB's "Different Boats" did a fine job. The last isn't very heavy, but is definitely the right sort.
Again, great work on the News. Are you going to "bind" the last six as you did the first two lots? If so, put me down again for a copy.
Jamie
I replied:
Subject: Sails
Date: Thu, 15 Jan 1998 12:01:15 +0000 (GMT Standard Time)
From: Bill Samson <wbs@sol.co.uk>
To: "Orr, Jamie" <JORR@oag.bc.ca>
CC: wbs@sol.co.uk
Dear Jamie,
Some great ideas there! I used the double sided tape, too, on the main seams, and did all the edges, patching etc by hand.
I don't know if you've tried some of the long seams in the mainsail yet, but here's how I tamed the vast amounts of cloth –
1. Tape the next cloth on with double sided tape.
2. Roll up that cloth widthways, and the rest of the sail in the other direction, so you've got two long rolls (use tape to stop them unrolling) with a narrow strip of cloth
between where the seam is to be sewn.
3 Feed this long object through the sewing machine. The trick here is to get your sewing machine into the middle of the room with space fore and aft for the double roll as it passes through.
I hope that makes sense – anyway you've probably figured it out for yourself. I saw it happening in a photo I saw of a sail loft, where the machinist was working in a hole in the centre of a huge table which supported the double roll as it was fed through.
I like the idea of using the glue stick for patches. I used short lengths of double sided tape.
I haven't done anything yet about a bound version of numbers 13 to 18. I only shifted about 3 copies of the first two, and it's horrendous getting Word for Windows to
deal with documents that size, without falling over.
I've been working on an essay on how to build a Chebacco, for PCB&F. Phil's planning to get essays from builders of various of his designs, and hopefully put them together into a book. I hope it works out.
Keep in touch!
Bill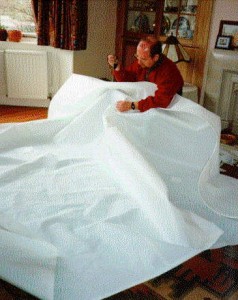 Me (Bill Samson) working on my Chebacco Mainsail – Very therapeutic!
For anyone planning to make their own sails, I'd like to recommend a couple of publications that I've found very useful:
"Sail Making for the Home Boatbuilder (Including: altering second hand sails)" by Paul Fisher – cost £12 +£1 p&p (UK) from Selway Fisher Design, 15 King Street, Melksham, Wiltshire, SN12 6HB, UK, www.selway-fisher.com, email: selwayuk@aol.com
"The Sailmaker's Apprentice" by Emilano Marino, International Marine (McGraw Hill). $39.95
Ed Heins makes progress:
Had a photo and email from Ed Heins, who is completing a Chebacco starting with a part-built hull from Burton Blaise: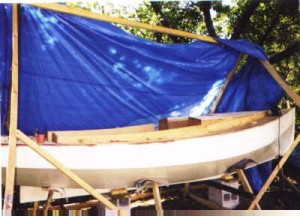 Ed Heins' Chebacco hull nears completion
Subject: Winter's waning
Date: Sat, 20 Feb 1999 22:16:50 -0500
From: "Ed Heins" <edheins@hcr.net>
To: <wbs@sol.co.uk>
Bill,
Haven't messaged you for a while and thought I'd give you an update on the project. The boat still resides beneath 2 tarps and lowered A frame in the back garden, but I do have posession of spar lumber as of today. The local sawmill was cutting some spruce, so I commissioned a half dozen 2 x 6 " 20 footers and another dozen 14 ft 1 x 4's. He wanted to cut me a 4 x 4 blank, but I think laminating will help stop warp. Corkscrew masts being just so unprofessional looking.
Lamination starts on Monday, and then will be working on turning the square blanks into round masts. Oh well a first time for everything.
. . .
Cheers,
Ed
And finally:
A slightly thinner Chebacco News than usual, and later than usual, too! Don't complain – It's up to you guys to keep me informed of developments. No news = no Chebacco news!
Bill Samson, 88 Grove Road, Broughty Ferry, Dundee DD5 1LB, Scotland.
wbs@sol.co.uk